Summer Cultural Camps Delight
By Kistie Singh, B.A., B.Ed., Village Director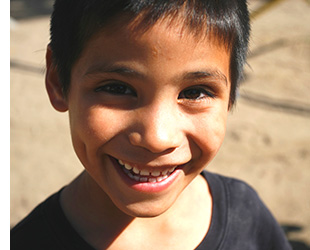 Our Summer Cultural Camps were a load of fun this year!
A team of volunteers and I came together to bring cultural learning experiences to the kids at the Village including medicine pouch making, beading, drumming, and a cultural walk in the new trails on our back lot.
The kids went home with their crafts, their SOS BC Camps t-shirt, and a ton of knowledge on the importance of participating in cultural activities of their heritage.
---
21st Annual Holiday Gala Welcomes an Elegant New Format
Date: Thursday November 26th, 2015 @ 6:30pm
Location: Grouse Mountain, the Peak of Christmas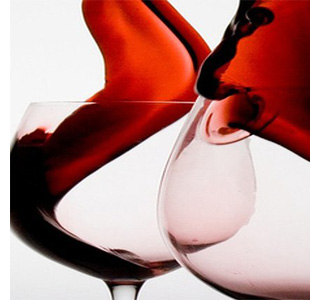 SOS Children's Village BC is pleased to introduce tabled seating for all guests and a delightful buffet dinner and dessert at this year's reinvented Holiday Gala. Following feedback from last year's event - which hit maximum venue capacity at 230 guests, and sold out a full two weeks beforehand making it the most successful in our history – we are excited to take this year's Gala to the next level.
We invite you to join us at Vancouver's preeminent spectacle of holiday magic! It's your exclusive opportunity to view the premiere of the SOS Children's Gingerbread Village, and the perfect way to kick off the holiday season in style and elegance.
The 21st Annual Holiday Gala will be a festive evening featuring fine wines, craft beer, and delicious food. After your magnificent Skyride up the mountain, you will be treated to a wonderful experience of live entertainment, captivating live & silent auctions, a trip raffle, and a 50/50 draw.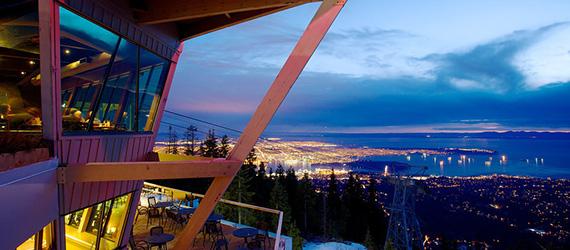 Global TV Personality Kaitlyn Herbst is thrilled to be the Master of Ceremonies for this special evening, with live music by Her Brothers - winners of Langley Has Talent. The most rewarding part of the night is that net proceeds go directly to our programs and homes for local foster children, and for homeless youth who are struggling to live independently.
Tickets are $99 each and include wine &
beer, dinner &
dessert, and live entertainment. A gondola and parking pass, a $51.95 value, are also included in the ticket price.

Thank You to our Holiday Gala Sponsors
Venue Sponsor:

Media Sponsors:
Platinum Plus Sponsor:

Gingerbread Village Presenting Sponsor:

Platinum Level Gingerbread Village Sponsors:
Gold Level Gingerbread Village Sponsors:
---
Calling All Professional & Amateur Bakers and Pastry Chefs!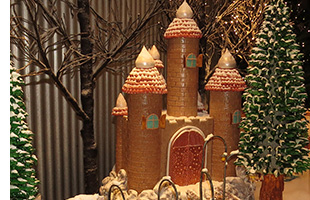 We are looking for bakers to help build unique gingerbread houses that will be on display in the Grouse Mountain Chalet from November 27th - December 31st. A fantastic promotional opportunity!
Each baker will be paired with a sponsor and collaborate on the gingerbread house design.
Each house will be judged and the top three will be awarded the following prizes:
1st Place: $1,000 Grouse Mountain Gift Card or cash
2nd Place: $500 Grouse Mountain Gift Card or cash
3rd Place: $250 Grouse Mountain Gift Card or cash
Also a special prize for the top high school team!

---
Special Thank Yous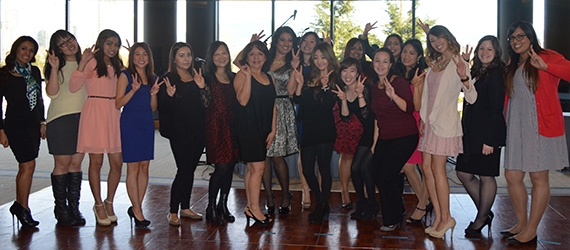 • CEFA Early Learning & Junior Kindergarten staff (pictured above) and students for their $1,500 donation of funds raised from their 'I Contribute' program
• Kiwanis Club of White Rock kindly provided us with a $1,000 cheque
• Knights of Columbus North Surrey Council No. 4767 for their generous $4,815 donation
• Kwela Leadership & Talent Management generously donated $3,845
• Lochhead Haggerty Engineering kindly gave $2,000
• Royal Canadian Legion - Whalley #229 for their kind donation of $500
• RBC Newton Branch for a $1,000 cheque given to us at our Day of Caring
• Shingle Ridge Homes kindly donated $550
• TELUS for $5,860 in matched employee donations
• Thinking Driver for raising $1,950 for us from their Golf Tournament/BBQ
• Vancouver Talmud Torah Association for their cheque of $760
We appreciate the support & generosity to the kids in our programs and our organization.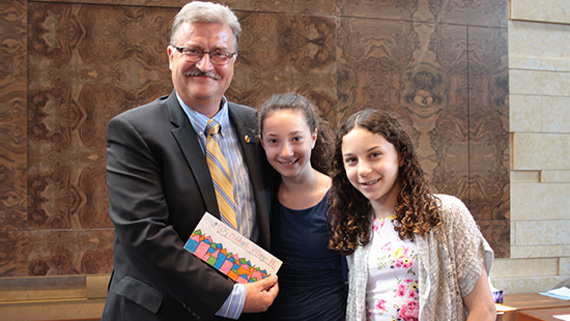 Mia and Jesse from the Vancouver Talmud Torah School came to our office in Cloverdale over the summer and sat down with Shelina our Office Manager to talk about the work of SOS BC. They presented their work to their school and received a $760 donation for us in recognition of their efforts on the project! Thanks for being SOS champions Mia & Jesse!
---
Pixar's Animated Feature Inside Out Helps Explain the Process of Narrative Therapy
By Akeiko Rawn, MNTCW, Narrative Therapist
Among the many modalities and services SOS Children's Village BC offers, narrative therapy is fairly new to the array. One technique of how a narrative therapist or practitioner works is illustrated in the recent Pixar film Inside Out.
The problem is treated as 'the problem' and not 'the person'. The therapist takes a stance of curiosity with the person to name the problem. Drawing from a bank of question types the therapist crafts each question in the moment to explore the effects of the problem. One common effect is 'the problem story' becomes the only story the person or others have come to, about said person.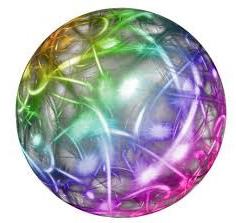 The feelings in the movie Inside Out (2015) were given their own characters such as "joy", "disgust" and "anger" – a problem can be 'externalized' or given their own persona as well. A small amount of space is created to see the relationship with the problem. Taking into consideration the binary talk of "should" and "shouldn't" and tracing the history of the relationship can reveal beliefs and values. This process then offers an opportunity to re-evaluate, or perhaps evaluate for the first time, whether or not the relationship is in support of the person's values or not.
To illustrate what externalizing might look like, recently I was working with a student in elementary school who was grappling with what would commonly be named as "anxiety" – described as an anxious student or the student has anxiety. These two statements are using internalizing language to describe and define the student. If you tack on disorder to that description, it is not so surprising that one might come to a negative identity conclusion. Also then not surprising that depression and anxiety often come as a pair.
Using the "experience near" words of the student to externalize the problem, we decided to refer to the problem as the "what if's". The what if's seemed to be fueling the majority of the worry in this student's life and was hindering the practice of attending school independently. Much like how fables and fairy tales used animals to personify and create some amount of distance between the child and the character, the exercise of externalizing does much of the same work. Using this technique not only engages the imagination, but also creates space for playfulness to address seriousness, generally enjoyed by both children and adults alike.
To conclude, in the movie something unique occurs at the end – instead of having a core memory as either happy or sad, reinforcing the binary, having a multi-coloured memory is seen as desired and of value. Similarly, in narrative therapy it is recognized that we are all multi-storied and that sometimes sadness can be valuable and how we view sadness takes on a different lived experience.
If you too have managed ways around the what if's, please share your experience with us: akeikorawn@sosbc.org
---
Up, Up, and Away for the SOS BC Thrift Stores
By Barbara High, Manager of Retail Fundraising and Volunteer Resources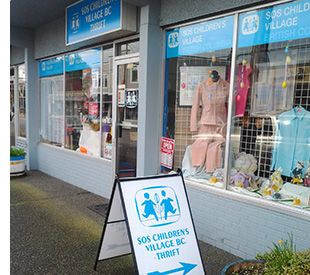 What's new for the fall at
our thrift stores
? After a very profitable summer, we are now in full on 'get ready for the holiday's mode', Halloween is around the corner and then yes ... Christmas!
Back to summer for a minute because it's not quite over yet! Both stores were fortunate to have great student help – thank you Sam and Christina for all your hard work and for working through pretty hot days within the stores.
Steveston's Annual Christmas Event is on Saturday November 14th and we have gathered lots of great stuff, so please come and join us and do some holiday shopping. We will open an hour early that day at 9:00 am.
I would like to take this opportunity to thank my support team – without their help and hard work nothing would get done! So … thank you Vera, Kathy, and Caroline, and welcome Vicky to the Kerrisdale team.
Finally, both stores are in need of volunteers, so if you have 4 hours per week to spare you know where to find us!
Last but not least we need GENTLY used ladies winter clothing as well. Till next time!